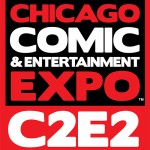 We're a bit later than we originally intended, but proud to present the first part of our C2E2 2015 panel recaps. But these aren't your normal panel rundowns; these are chock full of audio from the panels, including quotes direct from Dan Slott, Brian Azzarello, Jimmy Palmiotti, Amanda Conner, Charles Soule, and a bunch of other creators!
We start by going through the Secret Wars: Last Days panel from Marvel, where the panel talks about the Last Days miniseries leading to Secret Wars for characters like Ms. Marvel, Black Widow, Silver Surfer, Punisher, Ant-Man and the Inhumans. While there's not a lot in the way of revelations in this panel, there are one or two really interesting new tidbits… as well as the name a of supervillain that, by the end of the episode, will haunt your nightmares.
We then recap the New DC Universe panel, where the post-Convergence storylines of books including Harley Quinn, Starfire, Bizarro and Catwoman, as well as some details about the upcoming We Are Robin, are laid out. This was the panel where Dark Knight 3: The Master Race was made, and we have that audio (and our opinions) as well.
We plan to tape and release our recap episode about the Batman panel (where Scott Snyder talks openly about the Bat-Bunny) tomorrow or Friday, so stay tuned!
Podcast: Play in new window | Download (Duration: 1:39:07 — 91.0MB)
Subscribe: Apple Podcasts | Android | Google Play | Stitcher | TuneIn | RSS | More
Thanks for listening, suckers!