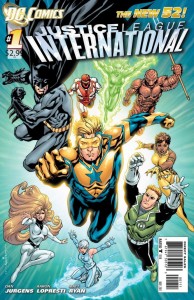 EDITOR'S NOTE: This review contains spoilers.
I love the Foo Fighters, but I have trouble listening to more than a song or two in a row. Because whether it's on purpose or what I bring to the music as a listener, I very quickly become convinced that every song is Dave Grohl singing about Kurt Cobain. In Your Honor. Friend Of A Friend. My Hero. Darling Nikki. Courtney Love Chokes Pole. Rob Shouldn't Write Reviews While Drinking. You get the point.
I got the same feeling reading Justice League International #1: almost every panel seemed like it was about the DC Comics reboot.
Look: the first line in the book is:
Confidence in every level of authority is at an all-time low."
A page later, this exchange between a member of the UN Security Council and head of UN intelligence Andre Briggs happens: