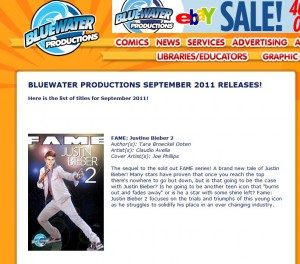 Paging the copy editor for the Bluewater Productions Web site: you have a typo on your September 2011 releases page. A hilariously awesome typo:
FAME: Justine Bieber 2
The sound you just heard was the hearts of little 10 year old girls around the world breaking, accompanied by the collective whooshing fist pump of little 17 year old lesbians who are now optimistic that Beebs might actually play for their team. Good work!