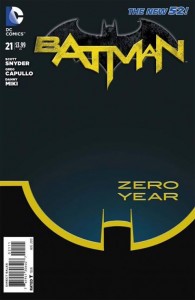 DC Comics just wrapped up an event called the DC Retailer Roadshow in New York, which is not an event to which I was invited, due to the fact that I am not a comics retailer, and thanks to ugly rumors spread by the owner of my local comic store, where they know me by name and ask me to stop including the word "taser" in sentences that also include the phrase, "If I ever get face-to-face with Dan DiDio."
A gentleman named Roderick Ruth, however, was there, and filed a report on the proceedings. Which included the normal stuff you would expect from a meeting with retailers – hype about the upcoming Trinity War event, addressing concerns that DC isn't giving retailers enough information to appropriately order high-demand books like the one where Robin died, what have you – but it also included an interesting tidbit about Scott Snyder's Batman origin story Zero Year, which just started last week.
That tidbit being that there will be crossover stories with Zero Year appearing not only in some of the Bat titles, but also in Action Comics, Flash, Green Arrow and Green Lantern Corps.
Wait, what?