on
April 6, 2013
at
5:33 pm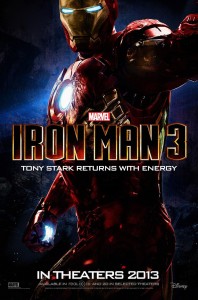 We are about a month away from the start of summer movie season, and to this day, it feels a little funny to say that this early in April. Back when I was a really little kid, "summer movies" were, well, just movies that came out in the summer, and generally amounted to whatever Disney re-release fronted the double bill at the drive-in theater, where my parents gambled on me falling asleep in the back of the Dodge Aspen early enough for them to get hammered in relative peace and bemoan that they ever decided to have children.
But Jaws, in June 1975, changed all that, with Star Wars moving the start of summer blockbuster season up to Memorial Day. And that's how it was until Spider-Man moved the magic date up to the first Friday in May back in 2002, and where it has stayed, guaranteeing a huge blockbuster on that day… and a giant pile of expensive shit that Hollywood knows sucks, but is still hoping will lure in enough bored dupes looking for something to do on a Friday night to make back the production investment, the weekend before (hello, Pain & Gain!).
But regardless: the season is coming, and we are, as we have stated in the past, most looking forward to Iron Man 3. Sure, we could spend our early spring looking forward to geek movies like, say, Man of Steel – and make no mistake, we kind of are – but as we have established, this is not our first rodeo. And while the early trailers for Man of Steel look good, we have been burned by a Superman movie made by a director with geek cred starring an unknown before (hello, Superman Returns!), and that one wasn't even by the poor, deluded schmuck who made Sucker Punch.
So for now, Iron Man 3 is our frontrunner, and since it opens first, on May 3rd, it means we are getting more and more promotional stuff about it. Such as the first complete scene from the movie to be released via Yahoo Screen. It is referred to as "Holiday Greeting," which is appropriate, because it reminds me of every Christmastime "conversation" I have ever had with my brother. And you can see it after the jump.
↓ Read the rest of this entry…