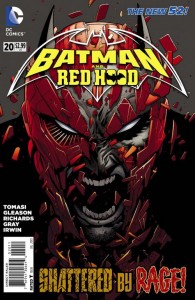 Batman And Red Hood (previously named Batman & Robin but recently renamed due to Robin being occupied by a previous engagement with a dirtnap) #20 is finally proof – to me, at least – that when Grant Morrison killed Robin in Batman Incorporated, he really didn't tell anyone what he was planning to do ahead of time. Because the only possible explanation I can think of for a comic like Batman And Red Hood #20 to exist is that the creative team had to come up something – any damn thing – to fill the pages that was at least somewhat on point with this dead kid they suddenly found themselves saddled with.
Seriously: sudden, blinding panic is the only explanation for some of the things we're seeing in this issue. Trying to introduce some version of Carrie Kelley that we've never seen before is a bad enough flailing grasp from a creative team realizing that they're buying groceries with the money made from a book with the name "Robin" in the title. But it also is the only explanation for, hell, almost the remainder of the book. There are so many problems with this issue, from off character moments to weird methods of attack that make no sense to a couple of legitimate "what the fuck?" panels that I have to believe the issue was whipped together at the last minute in a pants-shitting panic.
Because otherwise, I need to believe that a writer of a Batman comic book would think that Batman would engage in a drive-by shooting in the interest of resurrecting the dead.
Yeah, you heard me.