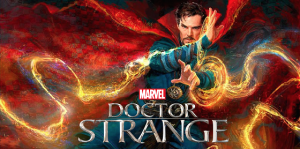 Sorry this week's episode is late, but we had this thing, and we are late because of it. However! This past weekend, Marvel Studios' Doctor Strange opened in theaters, marking not only the latest film in Phase Three, but the first to have an opening credit production logo featuring almost no comic books.
So we discuss the movie, its similarities to Iron Man, how Benedict Cumberbatch's American accent is the enemy of suspension of disbelief, whether Doctor Strange is actually history's greatest villain, how to pronounce The Ancient One's last name, whitewashing and cultural appropriation, and, of course, spotted dick.
We also discuss:
Avengers #1, written by Mark Waid with art by Mike Del Mundo, and:
Superman #1, written by Peter Tomasi with art by Patrick Gleason!
And, as always, the disclaimers:
Due to strange circumstances, this episode was recorded live to tape with no editing. So while it might mean a looser show from us than you are used to, it also means that it should suffice as a legal request for political asylum (Happy Election Day, everyone!).
This show contains spoilers. So if you don't want to know how to pronounce "Chiwetel Ejiofor," well… actually, you won't learn how to pronounce that here.
This show contains adult, profane language, and is therefore not safe for work. Trust me: you don't want your mom to hear the way Rob tries to pronounce "Chiwetel Ejiofor." Get some headphones.
Podcast: Play in new window | Download (Duration: 1:19:09 — 77.1MB)
Subscribe: Apple Podcasts | Android | Google Play | Stitcher | TuneIn | RSS | More
Thanks for listening, suckers!