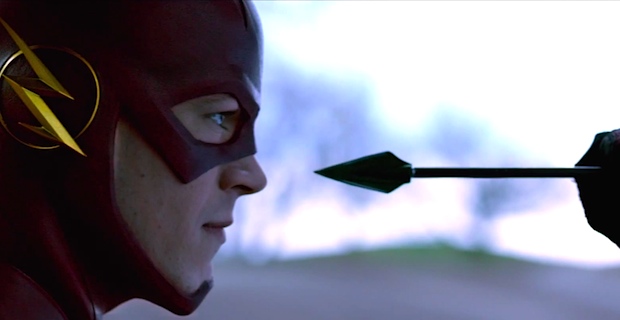 Well, New York Comic Con was this week… and we were not at it. And what with the impending Home Office move, we were too busy to follow nearly as much of it as we would have liked. But still, we open the episode gamely trying like hell to round up some of the news and announcements from the convention… before realizing that there is one activity that no amount of bad scheduling or work commitments or lack of funds can keep us from experiencing: television.
This week gave us the debuts of the new seasons of The Flash and Arrow on The CW (or, as Rob continues to insist upon calling it, The DCW). And these debuts brought some interesting new angles to old familiar characters, like Arrow trying to find love, and The Flash trying to nuke a guy to death. So we discuss the episodes, some of the changes that seem to be in store for the characters in the coming season, who we think will die, who we think will receive either a power ring or villain helmet… and most importantly, how Arrow and The Flash seem willing to take standard superhero story tropes and turn them delightfully on their heads.
We also discuss:
Dr. Strange #1, written by Jason Aaron with art by Chris Bachalo, and:
The Amazing Spider-Man #1, main story written by Dan Slott with art by Giuseppe Camuncoli!
And, as usual, the disclaimers:
We record this show live to tape, with minimal editing. While this might mean a looser comics podcast than you are used to, it also means that anything can happen. Like a discussion about how the best Inhumans movie would feature Lockjaw, a green screen, and piddling on a baby.
This show contains spoilers. While we try to shout out warnings ahead of time, be warned that you will learn whether or not we were serious about The Flash nuking a dude to death.
This show contains adult, profane language, and is therefore not safe for work. Do you want your employer hearing about the surgical alternative to Method Acting? You do not. Listen with headphones.
Podcast: Play in new window | Download (Duration: 1:43:15 — 93.7MB)
Subscribe: Apple Podcasts | Android | Google Play | Stitcher | TuneIn | RSS | More
Thanks for listening, suckers!