on
February 10, 2013
at
9:13 pm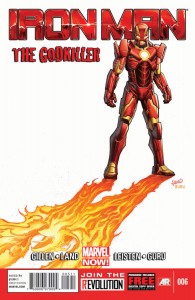 Editor's Note: My old man had a philosophy: peace means having a bigger spoiler than the other guy.
If I had to hazard a guess, writing Iron Man has to be an interesting and somewhat difficult task for Kieron Gillen. He's following an Eisner-winning run by writer Matt Fraction on Invincible Iron Man, and not only is he taking the peak seat writing a character who is now mired in the popular culture not only as the star of his own movies, but the star of The Avengers and, if reports are correct, soon to be part of the Guardians of The Galaxy movie. So imagine not only that heavy responsibility that Gillen must feel, but throw on top of it that he is working with artist Greg Land, which means that no matter what Gillen wants to write for Tony Stark, he needs to make sure he includes a coterie of hot chicks for Land to lightbox.
Well, Gillen tries to rise to the task in Iron Man #6, the first part of the three-part arc The Godkiller. First, Land picks up the story gauntlet thrown down by Fraction at the conclusion of Invincible Iron Man, where Fraction set up Stark as preparing to spend an extended period of time in deep space. Gillen picks up story elements from last year's Avengers Vs. X-Men to put Stark at odds with an entire spacegoing civilization, in a way that could easily put Iron Man into contact with the Guardians before all is said and done. And I can almost see Gillen finishing the first draft of his script and leaning back in his his seat with satisfaction… only to see a handwritten note pinned to his wall reading, "DON'T FORGET THE SPACE BITCHES!" and then sighing, cracking his knuckles and leaning forward to perform draft two.
I say that Gillen "tries" to rise to the task, because while Iron Man #6 lays the groundwork for a high-tension story putting Iron Man into direct conflict with an entire spacefaring civilization… but it is, in fact, all groundwork. This is a somewhat talky, exposition-laden issue with precious little action, instead focusing on explaining the civilization to set the groundwork for future conflict, and on Stark's daddy issues and senses of aging and mortality. It is mostly foreplay with very little climax.
And, as with most good foreplay, there are hot chicks. So at least Land has something to do.
↓ Read the rest of this entry…