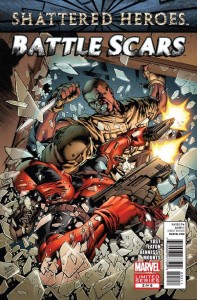 EDITOR'S NOTE: This final review of last week before the comic stores open contains… I'm not sure "spoilers" is the correct term… howsabout "reckless speculation?" Nah, we'll stick with spoilers. We're fucking OG that way.
So being an American hero runs in Battle Scars protagonist Marcus Johnson's family, and people think his father can't die. That conventional wisdom is that those statements mean the smart money's on his dad being Nick Fury… but since plot credit to this book includes Matt Fraction, it really could be anyone. Because no one can die in a Marvel comic by Matt Fraction.
Battle Scars has been the most – if not the only – interesting spinoff from the Fear Itself event, the story of an Army Ranger whose mother was killed during that event, and who returns home for the funeral to find he's extremely popular with S.H.I.E.L.D., Captain America, and Taskmaster. In this third issue of the six-issue miniseries, Johnson discovers that he is also popular with everyone in the Marvel Universe with a gun and a Swiss bank account. This month, that includes Deadpool, and thank God, because he almost never appears in comic books these days.