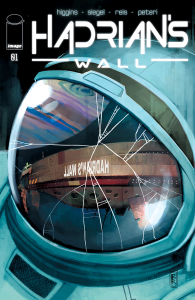 After yet another cripplingly busy week at the Crisis On Infinite Midlives Home Office (and, to be honest, after about a quart of single malt scotch and a few belts of mescal), we only had the time to discuss a few of the comics of the week. But that turns out to have been a good decision; since we didn't have time to fully discuss and coordinate our choices, we wound up with a couple of polarizing choices upon which we didn't really agree.
This led to a conversation that ranged from deciding where on the Kubler-Ross scale of grief we are with regards to Watchmen characters still appearing in DC: Rebirth books (Rob is at "Bargaining", Amanda is "amused at Rob's Bargaining"), how James Tynion IV made Rob care about Spoiler for the first time, whether there's enough nostalgia in the world to make innovative visual storytelling enough to bring Steve Austin into the 21st Century, and how Amanda's battle against scotch last night went (picture Amanda as Rocky and scotch as Apollo Creed).
So what comics do we talk about?
Detective Comics #940, written by James Tynion IV with art by Eddy Barrows,
Lady Killer Volume 2 #2, written and drawn by Joelle Jones,
The Six Million Dollar Man: Fall of Man #3, written by Van Jensen with art by Ron Salas, and:
Hadrian's Wall #1, written by Kyle Higgins and Alec Siegel, with art by Rod Reis!
And, as usual, the disclaimers:
This show contains spoilers. If you don't want to find out who dies in this week's Detective Comics (hint: it's not Batman), then consider yourself forewarned.
This show contains adult, profane language, and is therefore not safe for work. See that title? It's because we talk about Lee Majors and a plaster cast. You want your boss asking about that? Then get some earphones.
Podcast: Play in new window | Download (Duration: 1:06:11 — 65.3MB)
Subscribe: Apple Podcasts | Android | Google Play | Stitcher | TuneIn | RSS | More
Thanks for listening, suckers!