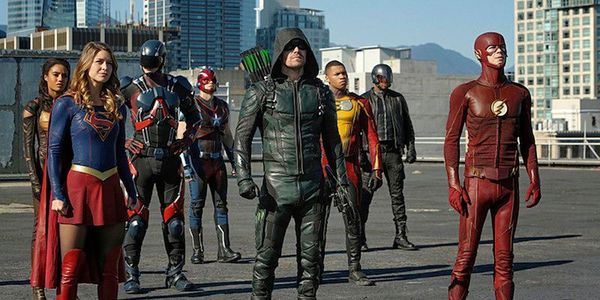 After a year of superheroes beating on each other in comic books and in not one, but two different cinematic universes, sometimes you just need a good, old-fashioned superhero team-up. You know, where the good guys fight each other at first because of a misunderstanding or mind control or something, then they come together to fight seemingly insurmountable odds, and finally defeat the bad guys.
Some comic publishers seem light on their ability to publish such stories recently (hi, Marvel!), but thankfully, the people in charge of the DC Arrowverse shows on The CW network have us covered. The Invasion! crossover between Arrow, The Flash, Supergirl and DC's Legends of Tomorrow took place this week, and gave us heroes from four shows and two Earths coming together to battle aliens, the government, and the after effects of time travel. Not to be confused with the after effects of physical travel; you might suffer Montezuma's Revenge as a result of either, but only one involves a stone axe and your face.
So we discuss the crossover: what worked and what didn't, what plot points were genius and which were purely for storytelling expediency, which characters and actors shared excellent chemistry, and who should be given more to do considering he once played Superman, for God's sake.
We also discuss:
The Totally Awesome Hulk #12, written by Greg Pak with art by Mahmud Asrar, and:
Inhumans Vs. X-Men #0, written by Charles Soule with art by Kenneth Rocafort!
Alas, the disclaimers:
This show contains spoilers. If you don't want to learn why the greatest weapon against an alien invasion might be just one damn pocket? Watch Invasion! before listening and consider yourself duly warned.
We use adult, profane language, so therefore this show is not safe for work. You want your mom to hear us talk about the emotional resonance behind an X-Man trying to get themselves hard as fast as they can? Then get some headphones.
Podcast: Play in new window | Download (Duration: 1:50:43 — 109.5MB)
Subscribe: Apple Podcasts | Android | Google Play | Stitcher | TuneIn | RSS | More
Thanks for listening, suckers!