on
August 2, 2013
at
9:47 am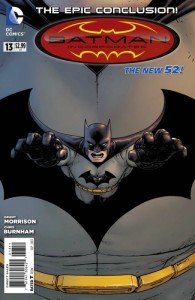 Editor's Note: I don't know if Batman's dead or not. All I know is this. Parts of the city out there, it's like Spoiler Year all over again.
Grant Morrison has been working on his Batman story since 2006. During that time, DC has gone through a Final Crisis and a full reboot, Batman has died and been reborn after traveling through history, had a son and lost him (despite a couple of stories predicting his future as Trenchcoat Gunslinger Batman), and I have been infuriated at least as often, if not more often, as I have been delighted by what Morrison has done with the character in the past seven years.
Seriously: for every awesome speculative story about a future Batman presiding over the end of Gotham City, there is Batman with a handgun shooting Darkseid. For each interesting revival of obscure Silver Age ephemera, there is a Joker story that is mostly text with the occasional odd computer-generated image (seriously, Grant: if I wanted to read a giant block of text, I'd read this Web site). And for every moment where Damian does something awesome, there are about 700 moments where Damian speaks, breathes and / or exists. I was not a fan of Damian, I guess is what I'm saying.
But Morrison's Batman story is over now, completed in this week's Batman Incorporated #13, where Batman finally has his last showdown with Talia al Ghul (who started this all by dumping that little rugrat Damian on Batman's doorstep back in the first place), with the fate of Gotham and six other cities hanging in the balance. And in the issue, Morrison tries to have things a lot of ways, simultaneously tearing down and destroying Batman and Bruce Wayne while asserting that that could never happen, and pointing out the ridiculousness of the idea of Batman while also calling it timeless and classic.
All of which should be a filthy Goddamned mess, and in certain ways it is, as Morrison makes a couple of choices here that directly contradict other things that he did earlier in his run. However, there is no denying two things: while I don't always enjoy or agree with his story choices, there is no question that Morrison is an excellent writer… and if you've been following his career since Animal Man, you know he can write one hell of a final issue when he wants to.
And while Batman Incorporated #13 might not be the best wrapup to an epic storyline I've ever read, it is, in fact, one hell of an interesting statement on Batman himself. ↓ Read the rest of this entry…