on
August 30, 2012
at
8:22 am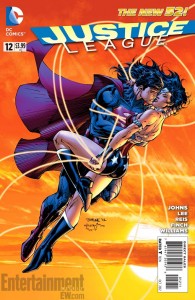 EDITOR'S NOTE: I've had the blues, the reds and the pinks; one thing's for sure: love spoils.
Well, that's the end of the first year of the first post-reboot Justice League since Crisis On Infinite Earths back in 1986. That Justice League, at the end of its first year, had established itself as a solid action book with an interesting character-based humor element… and was already on its way to becoming far more focused on the comedy than it was on the action. It short, its best days were already gone by that first anniversary, having given or on its way to giving Guy Gardner a 70s sitcom level personality change, The Martian Manhunter an Oreo fetish, and Booster and Beetle a harebrained get-rich-quick scheme of the month.
So how does Justice League #12 compete? Well, by going in the opposite direction, coming out of an only okay character-based story while promising, in a Geoff Johns patented epilogue, action-packed tales including an attack by Atlantis, battles between Superman and Batman and Shazam, and a possible conflict between The Justice League and the recently-announced Johns and David Finch produced Justice League of America.
Oh, and it seems that we will spend some time witnessing Superman boning Wonder Woman. But you already knew that, and we'll get back to that in a minute.
↓ Read the rest of this entry…