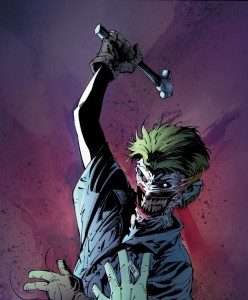 Happy New Year! Well, almost.
This year in comics has been pretty uneven for the Big Two. Marvel finally dragged its ass across the finish line to end the pain and suffering that was Avengers Vs. X-Men, leading to a reboot relaunch of most of its major titles under the imprint of something called Marvel Now! Whatever its actual intentions (sales!), Marvel Now!'s primary functions have to have an excuse to bring Jean Grey back as a teenager (hot!) and kill off Peter Parker (cold!). The jury is out with me on the whole concept right now. Meanwhile, DC has killed off many of its New 52 titles before they even made it to middle school (oh, O.M.A.C., we barely knew ye!). On the other hand, Scott Snyder has emerged as an architect of some vision with his "Death Of The Family" concept, which is currently impacting the Bat Family of books. I'm digging this story almost enough to forgive him for taking a break from Vertigo's American Vampire…and Vertigo's got enough problems right now.
So, where were the bright spots? Check out my picks, after the jump.